Regular price
Sale price
$12.95 USD
Unit price
per
Sale
Sold out
We have more than 10 in stock
Mix & Match Savings on All TouchProtect:

Save 15%

with any 2 (front or back)

Save 20%

with any 3 (front or back)

Save 25%

with any 4 (front or back)
Discount automatically added at checkout
The world's best selling trackpad protection, now available on the Steam Deck.  
TouchProtect Waterfall morphs your trackpads into a lively waterfall illusion, ignited when light strikes it from different angles.  Move your deck around in your hands and watch as your trackpads come alive!  Similar in feel to TouchProtect Mirage, Waterfall provides a silky satin finish that enables your fingers to slide seamlessly over your Steam Deck's trackpads.
Key Features:
Next-Level Immersion: The ability to change the texture of your trackpads unlocks a new dynamic to the way you use your Steam Deck. Fine tune your trackpads to your personal preference!  
Premium Materials: We use high-grade materials sourced from reputable suppliers like 3M and Avery. This ensures your trackpad is safe from harmful adhesives often used in cheaper alternatives. 
Unrivaled Protection: Our skins add a layer of protection against scratches and wear, and prevent trackpads from developing shine over time. 
Made in the USA: TouchProtect are designed and manufactured in our US-based facility, ensuring top-notch quality and support. 
Set of Two: Each pack comes with a pair of skins, one for each trackpad of the Steam Deck.
More Info

In 2013, we introduced the concept of premium textured trackpad skins to the world. Our Steam Deck skins embody our continued dedication to innovation, enhancing not only the aesthetic appeal of your deck, but also providing a unique tactile experience that improves usability.

Crafted with a blend of quality, precision, and passion, TouchProtect skins add a whole new dimension to your gaming experience. But it's not just about transforming the look and feel of your device. With TouchProtect, you are also investing in a product that stands the test of time. Our skins resist wear and tear, ensuring your Steam Deck looks and feels as good as new for years to come.
Share
View full details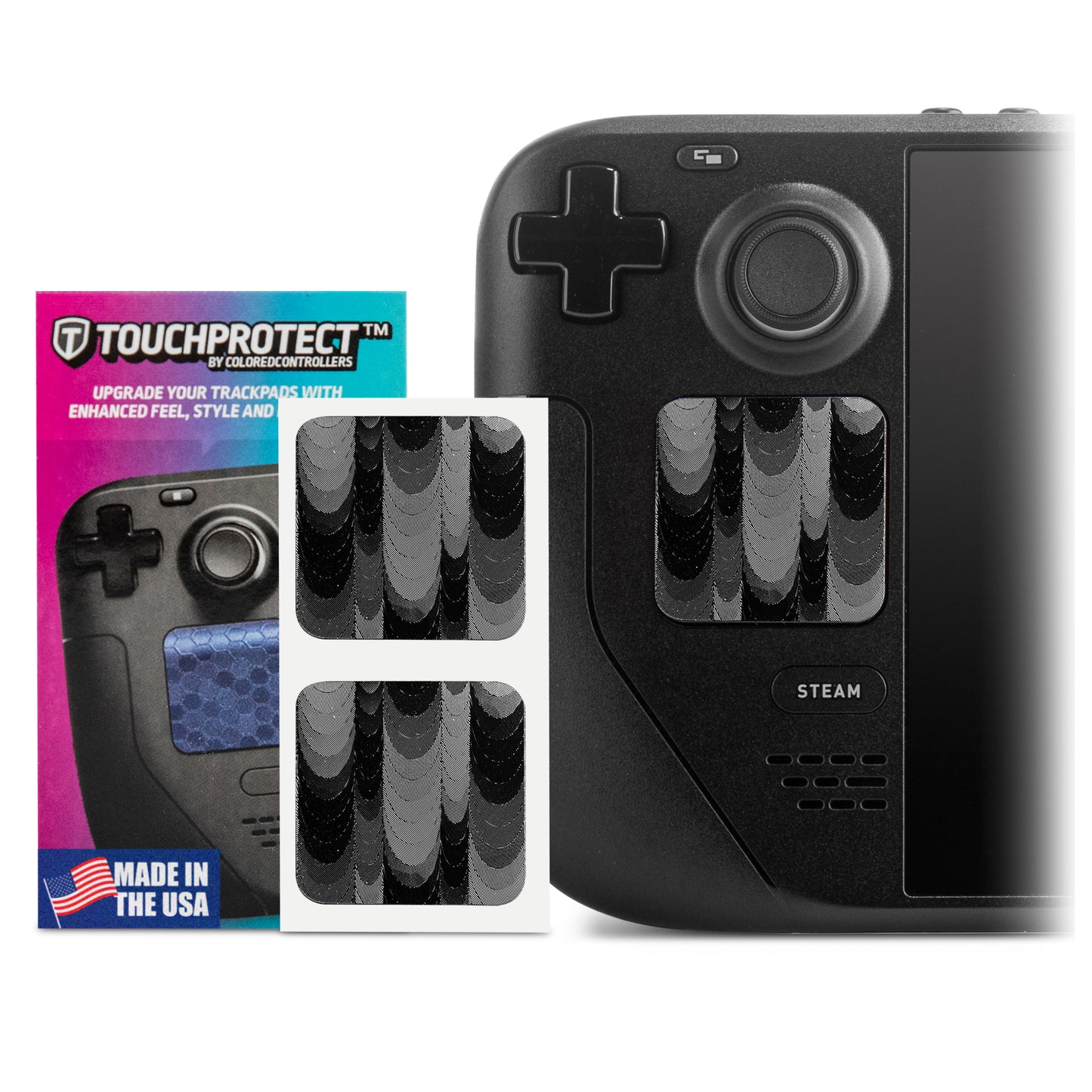 The Perfect Pink buttons~
These look so poppy with my atomic purple casing. Such smooth buttons, too. I don't have any other notes other than they're great. Thanks~